Full Mesh High Back Adjustable Ergonomic Chair Office furniture Ergonomic Office Chair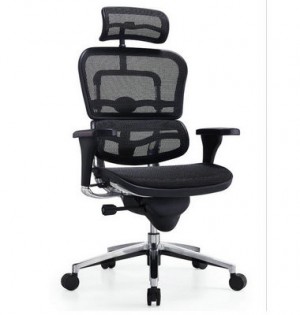 Some ergonomic accessories are more than mere extensions of your workspace – they're necessities. Pair your adjustable height desk with the ergonmic office Chair - Mesh with Headrest, and you'll have a supportive work center that will keep you productive for even the longest days.
Aluminum trim and chrome accents start off the collection of stylish features, with options to customize even further with a handful or mesh seat color options to match with your unique office flair.
Breathable mesh back makes this a must-have seat for users working in warm or humid environments, and delivers an alluring combination of style and comfort in a single package.
Factor in pivoting, adjustable arm rests, an adjustable headrest, vertically adjustable lumbar support, synchro-tilt, and tilt-tension control, the Ergohuman Chair includes the essential ergonomic features needed for all day sitting, giving you ample support where and when you need it.
Tilt tension control ensures that the chair's recline rate adapts to your weight as you lean back, and tilt lock keeps it in place where you want it. Synchro-tilt lets the back recline in a preset ratio with the seat, and the chair's seat height adjustability ensures that it will fit a wide range of users, making it perfect for offices or workspaces with multiple users. A waterfall seat edge reduces pressure on the back of your knees and keeps your circulation flowing to your legs and feet, so you don't have to deal with feet that fall asleep while you're working.
There's more supportive seating right around the corner (office) with the Ergohuman Mesh Chair with Fabric Seat and Headrest, and it's going to get you on a whole new level.
Features
Cylinder raises and lowers chair pneumatically
Back, headrest, and seat cushion adjust to fit different user's preferences
Comes with adjustable lumbar support for long-term comfort
Height-adjustable, pivoting armrests
Back angle adjustment with 3 position tilt-lock
Synchro-tilt mechanism
Seat depth is adjustable
Model No.: RF-TTA988
Contact Details
+ 0086 18566375141
Whatsapp: + 86-18566375141
Skype: beautylife0757