Luxury Upholstered Leather Fiberglass Frame Living Room Italian Designer Modern Do Maru Lounge Chair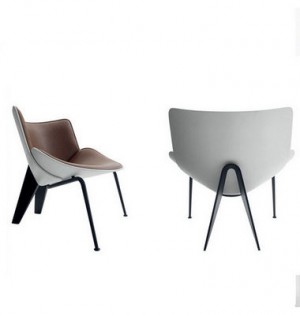 The Do-Maru lounge chair is named after the ancient armour worn by samurai warriors, made up of painted and decorated thick leather plates that covered and protected the hero's body. Like the swivel armchair Almora, designed by Doshi-Levien in 2014, once again the shell of the seat is made up of a couple of superimposed bodies, softened by paddings that can be upholstered with either fabric or leather. The cast aluminium back support boldly underlines the conical profile of the small armchair, while the anterior support is in tubular metal with black chromed or pewter painted finishes, studied to match the colours of the body: white, black and tortora.
Doshi Levien is a brand synonymous with cultural hybridism. Founded by Nipa Doshi and Jonathan Levien, the partnership marries together Doshi's love for materials with Levien's deep understanding of technique and industrial design. Having been raised in India, she has an astute eye for visual culture with the goal of making products that can contribute to a society. Levien has a background of fine cabinet making, and received a Masters in furniture design from Royal College of Art in London, where they met and formed a partnership dedicated to uniting culture, technology, industrial design, and fine craftsmanship.
Model No.: RF-KW5516
Contact Details
+ 0086 18566375141
Whatsapp: + 86-18566375141
Skype: beautylife0757